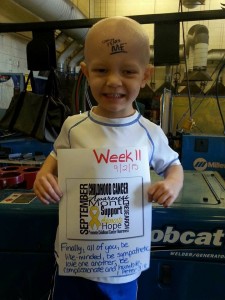 September is Childhood Cancer Awareness month, and Mr. Ken is spreading awareness as he rides from Oregon to Arizona. Ken likes to honor a child when he is riding and today he honors Brooks.
Brooks is our hero of the day. Brooks is a three-year-old blue eyed, blond hair, high energy young man. He has brought much joy to his parents, his older brother and sister, and his extended family. Sometimes he has so much energy it gets the best of him and those who love him.
Brooks parents are both school teachers at the local high school and were planning a family vacation for June when school was out. Brooks had several fevers throughout the Spring, and in May, he had come down with another one. His parents decided to take Brooks to the doctor to have him checked out since the fevers were becoming more common. Mom and dad were just concerned that there might be something else going on with their youngest of three kids.
Dr. Betz is the family pediatrician, and as she examined Brooks, she noticed that his liver seemed to be enlarged. She ordered some labs for Brooks, which all came back within normal limits. The tests did, however, show that exposure to mono at some point in time was evident. Dad is a girls basketball coach, and Brooks liked to go to the practices because he sometimes got kisses from the girls.
Brooks was scheduled to go back and see Dr. Betz before they left for family vacation. The follow-up appointment was ten days later, and Brooks' liver was even larger than his previous visit. An ultrasound of his abdomen was ordered for the next morning. He had his ultrasound and later that day mom received a life-changing phone call from the doctor. Brooks ultrasound showed that the liver was not enlarged, but a large tumor engulfed his right kidney and was pushing his liver forward. Brooks was sent immediately to Children's Hospital in Denver and admitted to the Oncology Unit. Family vacation was officially canceled.
10JUN15 was one of the longest days that Brooks' Granny can ever remember. Brooks was scheduled for a CT scan that day because the ultrasound was not as definitive as they hoped it would be. When Dr. Cost, the Oncologist, finally had the results to share with the family, the one thing that stuck out in her explanation was: "this is both treatable and curable".  Surgery was scheduled for 12JUN15 to remove the tumor that smothered Brook's kidney.
Surgery day came and at 1 pm Brooks was taken to the operating room. At 7 pm, the surgeon emerged with great news that Brooks had tolerated the surgery well. The tumor, which appeared to be a Wilms Tumor, was removed and sent for staging to determine the next steps in Brooks recovery. Saddled with an incision from just to the left of center on his abdomen all the way around to just under his right armpit, Brooks was back five days later playing with the neighbors.
The staging results came back and showed that there were cancer cells in the first of the 15 lymph nodes removed with the tumor and the right kidney. Brooks' diagnosis was stage three cancer, and he would need about six months of treatment with three chemo drugs plus six radiation treatments.
Radiation therapy has been completed and currently Brooks has had his first ten chemo treatments. He went from weekly to now, every three weeks or so. His treatment will last until December, and he will have frequent scans for the next several years to ensure that his body is not growing any other tumors.  As well as, to make sure no other medical issues arise, due to his body having to endure the drugs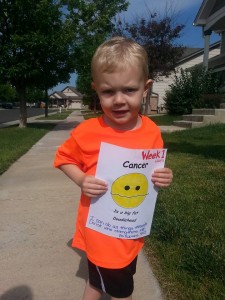 and radiation to save his life.
Because she is a caring pediatrician, Dr. Betz, has helped a family keep a loved one from becoming another child lost to cancer. If not for her willingness to listen and take the extra steps to check Brooks out thoroughly, this story could have ended quite differently. The entire family is grateful and appreciative of the attention that Dr. Betz has shown in caring for the youngest member of their family.
So today, 14SEP15, we would like to honor Mr. Brooks and his fight against cancer. Ken will ride today for Brooks. He is honored to ride in your name. Your strength and courage to battle something that you have no understanding of why it happened is amazing. Brooks, you are a warrior and a real hero. Keep fighting and living life on your terms young man. Godspeed from the Heroes and Angels Crop.
If you know a child that would like to be honored by Heroes and Angels, then please let us know. You can leave a message on our facebook or website. Or send a message to jack@heroesandangelscorp.org.