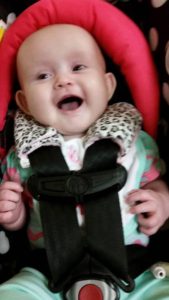 Today Ken rides for a Hero, Sophia.
"Looking at this 3 month old angel you would never have guessed the fight she has fought already.
The beginning of this miracle began when Alisha (mom) was told that she could not have anymore children. She had a condition that had to be treated with a hysterectomy. At a doctor's appointment just 3 weeks before, her plans for surgery changed. She was pregnant again. Although high risk, Alisha was elated! As her pregnancy progressed so did her excitement and anticipation. Telling her children, friends and family. God had his hand on her and the baby. And they were eagerly waiting to find out the sex of the newest Young family member.
When Alisha was 5 months term it was time for the gender ultrasound. Everyone at home, work and on Facebook was sitting on pins and needles waiting to find out. Then the news came it's a Girl! Which should have been such a positive moment but the news that followed was so scary. Alisha announced what else the doctors told her. That their daughter had some serious heart conditions. That if she survived birth she would go through many surgeries and procedures to sustain her life and give her the best chance.
How terrifying that must have been. Could you imagine? First being told you couldn't have anymore children, then you find out that you have been blessed one more time, and finally that she may not make it. But Sofia's family had great faith and left it all to God. They are still believing in his healing and recovery for baby Sofia and that he has a plan for their family.
On October 24, 2016Sofia Grace was born at UAMS hospital. The moment she was born she was medflighted to Arkansas Children's Hospital. Alicia could not go with her but put faith in God to care for and watch over her miracle and he did. Alicia and James (dad) named her Sofia Grace. They knew she had been gifted to them through and by the grace of God. However, within her first week of life she had to have her heart medically stopped and revived to save her life. Then have her first surgical procedure, as well as go on her feeding tube. Sofia is a fighter. Her doctors were astounded by her strength and will. Sofia stayed in the hospital 2 months and 4 days, which included Pda Band and Pda Ligation procedures. She finally got to go home on December 28, 2016. Now, she did end up having a 4 day visit about one week later, for IV antibiotics, to treat an infection and was a trooper then too. Sofia is a growing and happy baby. I wish that I could add healthy to that list. She was diagnosed with Tricuspid Atresia Hypoplastia, Double Left Ventricle Inlet, and Transition of the Greater Vessels. Just reading that, you can see the road that she has ahead of her. I have included more detailed information at the end for clarification.
Listed below are Sofia's diagnosis', so that you can know and begin to understand why this is so important for her and her family.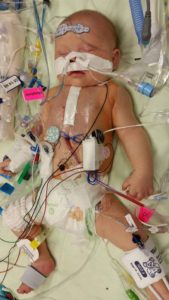 Tricuspid Atresia
Tricuspid Atresia is a heart defect present at birth (congenital) in which one of the valves (tricuspid valve) between two of the heart's chambers — the upper right chamber (right atrium) and the lower right chamber (right ventricle) — isn't formed. Instead, there's solid tissue between the chambers."
Alisha, thank you for sharing Sophia's story with us, it is an honor for Ken to ride for her.