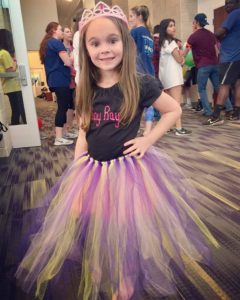 Today Ken rides for Raygan Skye Batton.
"Meet Rayray, now 5 1/2 yrs old..
Short version of her story!!
Diagnosed on 5/20/13 with High Risk Neuroblastoma Stage IV.. standard COG treatment, 6 rounds chemo, stem cell harvest, surgery, high dose chemo with stem cell transplant, 20 days of sedated radiation, 6 months of immunotherapy..
Raygan reached NED, no evidence of disease on Marc
h 12, 2014 and has remained cancer free since..
She endured more in her 2 years on earth than most people have in a life time..
Her 18 month treatment ended on Oct. 5, 2014 and she continues to be the light in our world..
Her spirit and fight continues to grow with JESUS as her driver. She lives like she is dying everyday..
Today, we are blessed by good health and never take one day for granted.. "
One of my favorite things every day when I check my Facebook is seeing new pictures of Rayray. This ray of sunshine always makes me smile. Her smile is so contiguous and you can see the strength and determination in her eyes. Rayray, you are a true Hero! Never stop fighting, we will always fight for you! Thank you for sharing your story.