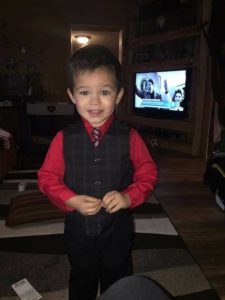 Today Ken is riding for an Angel, . First I'd like to share what Jon David's mother sent to us:
"Hello Chrissy tagged me in your post. It would be an honor if you would ride for Jon David wyatt. He is our angel. He passed away Jan 26, 3017 (3 days before his 4th bday)from Wilm's tumor that he had been fighting for almost two years. First round when it was just in his kidney we thought he beat it. Within 2 months from end of chemo it came back in liver and after that he just couldn't beat it even after surgery, radiation and chemo it just kept growing! Jon David was our adoptive son and a special little boy. He never met a stranger and he could light up a room with his beautiful smile and green eyes 
?. He took a piece of us to heaven with him so please ride for him! God bless"
Jon David certainly never met a stranger, in fact I was hearing stories about this sweet angel before I was ever in contact with his mother. One of our Heroes' mother told me about the first time she met Jon David. She was walking down the hospital hall and she heard this little voice call out to her, it was Jon David.
He called her into his room and proceeded to introduce himself and, like a true gentleman, offered his hand to shake. They visited for a while before she had to get back to her child.
Jon David loved life and "poof cakes" or what us less fun people call them, pancakes.
Marlie, it is our honor to ride for Jon David. We will always help to keep his memory alive, and we will never stop fighting for him.